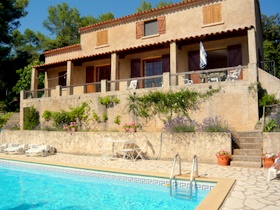 Provincial villa in Lorgues, Provence. Pool, 4000 m2, accomodates 8 persons.
The property is located in the charming village of Lorgues which is placed in the hills in the centre of Provence. The house lies in the outskirts of the village, in a quiet area facing south, with a wide view of the mountains (les Maures).
The vegetation on the property is mixed but consists mainly of old oaktrees, pines, olive trees, fugues, rosemary, thyme and lavander. There is a large swimming pool, measuring 5 x 11 m, and a grill for outdoor cooking. Furthermore equipment for playing Boule is available.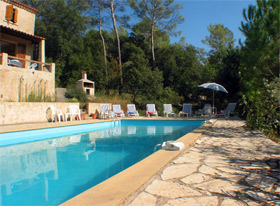 The house, a 25 year old provincial style villa, contains 150 m2 in two floors.
Ground floor: Dining/living room, one bedroom for 2 persons, kitchen, bathroom and lavatory.
First floor: Small sitting hall with TV/DVD. 3 bedrooms for 2 persons, bathroom and lavatory.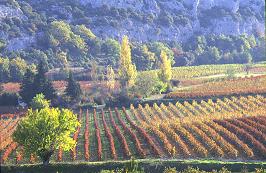 In the sitting hall on the first floor there is a sofabed for 2 persons. An infant bed is available.
There is a washing machine and the kitchen is equipped with refrigerator, dishwasher, oven, microwave oven, coffee machine etc.

Linen and towels can be rented.