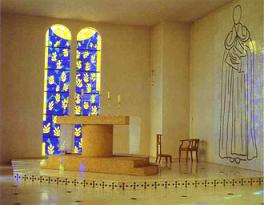 Henri Matisse's kapel i Vence,
Chapelle du Saint-Marie du Rosaire,
med den berømte glasmosaik.
Information about Lorgues
(www.beyond.fr/villages/lorgues.html).

Weather forecast for Lorgues
(www.meteoconsult.fr).

Miscellaneus information about Provence with links for further reading (www.wikipedia.org/wiki/Provence).

A blog with news of the activities in Provence (www.provenceblog.typepad.com).

Provence Beyond is a comprehensive site with information regarding subjects, ranging from sport and gastronomia, to wine og nature (www.provencebeyond.com).

A french Seaworld is located 30 km away in Frejus. An english version of the site is accessible via the british flag in the upper-left corner (www.marineland.fr).

Many opportunities for golfing i the area (www.golfinfrance.f9.co.uk/cotedazur.htm).