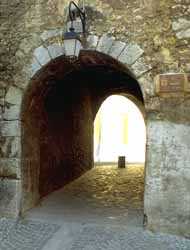 One of the old gates to Lorgues,
dating back to the 12th century.
Lorgues is a charming provincial village in the centre of Provence, with buildings from the 13th century. It is located on the green hills behind the coast, 210 meters above sea level, and with about 6000 inhabitants.
In the centre of the village you will find a cosy and relaxed atmosphere under the plane trees of the main street, filled with cafés and good restaurants. There are bakeries, banks, pharmacies, tourist information and a variety of small shops. In addition the town has two supermarkets.
Every Tuesday there is a big typical provincial market with local provision including: cheese, herbs, flowers, wines etc. Moreover handicrafts, clothes, leather goods and books are available. There are tennis courts in the town and several golf courses near by. For children, horseback riding is a possible.
It takes 7 minutes to reach the nearest bakery by foot, for your morning croissants.
The surroundings of the village are characterized with wine yards and there is great opportunity for tasting and purchasing directly from the chateaus.
Many fine excursions in the beautiful scenery of the surrounding nature is possible, e.g. Gorge du Verdun. Also, many spots of cultural interest worthwhile seeing, e.g. The Sct. Rosaline Convent with a glass mosaic by Chagall and the Chapelle du Saint - Marie du Rosaire in Vence, with the famous decoration by Matisse.
The nearest bigger town is Draguinan, located 10 km away. There is a 1 hour drive to the fashionable coasts of Sct. Tropéz, Cannes and Nice.
Lorgues i situated 12 km from the village of Les Arcs, where the TGV-train passes by.